career Information
Presentations and Other Information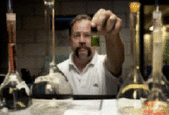 The mission of the Florida Operator is to protect public health and safety, protect the environment, and conserve Florida's water resources. To accomplish this, the state of Florida has over 13,000 active licenses. Of these over 4500 have drinking water licenses, more than 4700 have wastewater licenses, and greater than 3800 have distribution system licenses. They operate more than 5300 public water systems and more than 2000 domestic wastewater treatment facilities.
Federal and State regulations, public awareness, and increased concerns about the safety of our water and wastewater industry requires that all persons working in drinking water, water distribution and wastewater meet the highest standards as outlined in the rules and regulations of the Florida Department of Environmental Protection and the United States Environmental Protection Agency.

If you would like more information on a career/advancement in the water or wastewater industry, please click on the helpful links below:
This page is for informational purposes. If you find additional links of interest, we invite you to email the links to frwa@frwa.net for posting on this site.

The Florida Rural Water Association (FRWA) employs three trainers that offer training classes to those that wish to enter a career in water or wastewater. For a current list of training opportunities, please click here. If you would like more information in the drinking water field, you may email Ben Lewis at Ben.Lewis@frwa.net. If you are interested in wastewater, please contact Jamie Hope at Jamie.Hope@frwa.net.

FRWA also has a classifieds section on our website that you can access by clicking here. Another valuable source for career opportunities in the water or wastewater industry is located on the Florida Resource Journal by clicking here.

The water and wastewater industry is a growing field with many opportunities available. If you have more questions, please contact FRWA at 850.668.2746.