Certification Information
Presentations and Other Information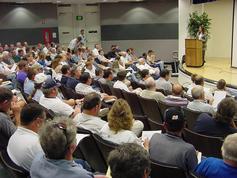 The Florida Rural Water Association employs four full time Trainers to meet the needs of both Operators wishing to earn CEUs and the new Operators taking the exam for the first time.
We offer numerous classes throughout the state to accomodate these new operators. These classes are not required but they have been known to greatly improve you chances of passing the Certification exams. If you are interested in any of these courses, you may find a list of all the training we have to offer by clicking here.
You may click on the links below to view the information that is covered in the classes we offer.