NRWA Fleet Program
Presentations and Other Information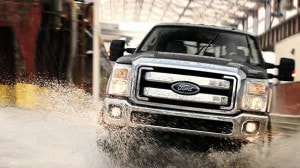 The National Rural Water Association has created partnerships with the Ford Motor Company and the Chrysler Group to offer special fleet
discounts to State Rural Water Associations and their utility system members. This partnership combines the buying power of 31,000 individual utilities to provide reduced fleet pricing on utility vehicles.
The Rural Water Fleet Program is a valuable member benefit for w
ater and wastewater utilities. State Rural Water Associations determine eligibility for their members, and provide a fleet code that allows access to substantial vehicle discounts to fill the need for reliable work vehicles.
​​Member utilities should contact their State Rural Water Association to access the Rural Water Fleet Program. Vehicles may be purchased at your local dealer or through the national fleet auto group at www.nrwafleet.com. Incentive
discount pricing is available on fuel efficient cars, vans, SUVs and trucks. Systems can save up to $6,750 off factory invoice
per vehicle. Happy shopping!
Program Details
Limited to Water/Wastewater utilities that are current members of a State Rural Water Association
There is no limit to the number of vehicles that can be purchased under the program
Incentive pricing is deducted off the factory invoice
Fleet vehicles must be in service for a minimum of 12 months or 20,000 miles
Vehicles must be registered and operated in the 50 United States
Call your State Association today to get your Fleet Identification Number (FIN)
Click here for more information on the Ford Fleet Program
Click here for more information on the Chrysler Program
For more information, contact Dawn Myers at dawn@nrwa.org or call 580.251.9081