Rural Water Impact.com
Presentations and Other Information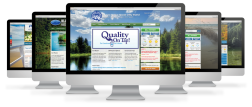 About the Service
Rural Water Impact is the industry leader in professional, cost effective websites – custom designed for rural water systems.
Rural Water Impact's web solutions utilize tried-and-true principles of web design and usability standards, enabling water utilities to be more efficient, effective and professional in servicing their customers. Utilities benefit from a professional web presence as their site provides customers a greater level of information and service. This ultimately increases overall customer satisfaction and confidence in the utility.
Rural Water Impact provides water utilities with a professional website presence a turn-key internet marketing package that saves time and money
Customized website designs are available for rural water utilities preloaded with industry-related content
Full-featured editing system for adding user content, photos, and forms
Automatic content updates in the form of monthly rotating featured articles so your website stays fresh and new
Eliminates the hassle of trying to determine the in's and outs of designing and building a website
Rural water utilities focus their energies on what they do best, instead of their websiteRural Water Impact is the one-stop shop for all your rural water website marketing needs!
---
How to Get your Custom Website
'To get started and start your Free 14-Day Trial: Simply sign up and Rural Water Impact will launch your customized water system website in just 2 business days You only pay if you decide to keep it! To get started, click here.
Every Municipal or Water System website includes: